The arrival of your baby's first tooth can be an exciting time signaling a significant milestone! However, it can also be quite uncertain and trying for both of you. Worry not, here's all you need to know about teething.
When does teething happen?
Teething varies from child to child. Typically, the first tooth (lower central incisor) erupts anywhere from 5-10 months of age. However, a delayed eruption can be a variation of normal. Teeth can come in late simply due to genetics. Other potential causes of delayed eruption include babies born prematurely or with low birth weight, genetic developmental abnormalities, nutritional deficiencies, and dental anomalies such as lack of spacing and malformed teeth. If the first tooth has not erupted by 18 months, please have it be checked out by a pediatric dentist.
What are common signs of teething?
While every baby is different, some common signs of teething include:
Excessive drooling
Irritability
Increased chewing on objects
Sore or tender gums
Slight elevation of temperature (not fever)
* Current evidence does not support the connection between teething and fever/diarrhea.
What are not signs of teething?
Teething symptoms are generally mild and usually subside after a few days. Sometimes, your baby may experience discomfort that resembles teething but may point to other medical issues. If your baby has any of the signs below, please contact your pediatrician:
Any symptoms that last for weeks and do not subside
Inconsolable crying
Diarrhea or liquid stool
Persistent fever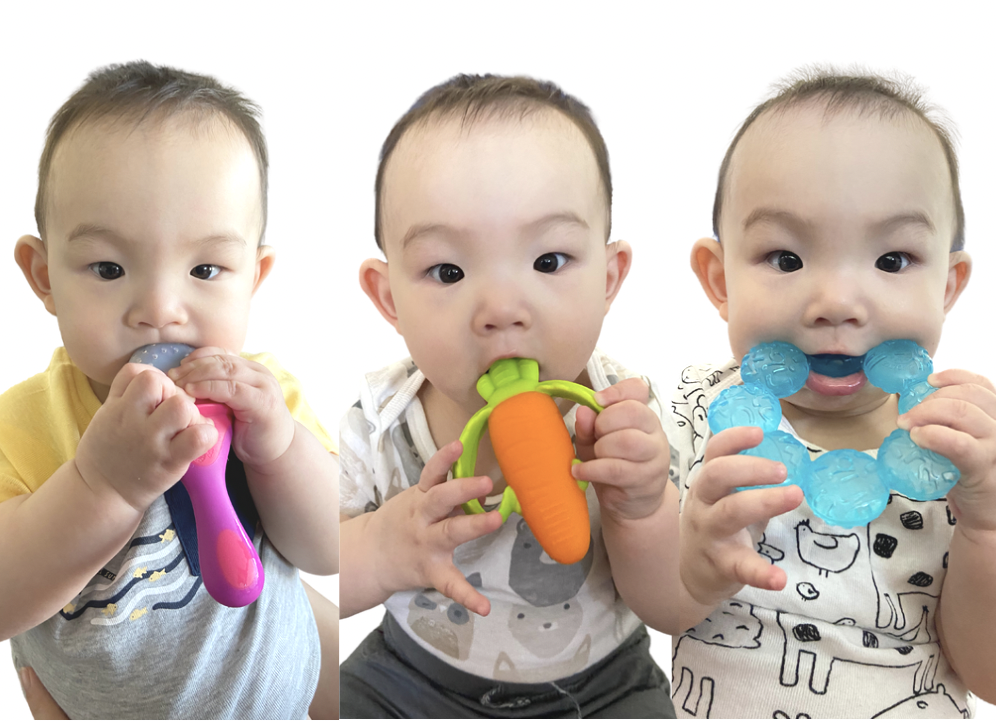 ---
How do you relieve your baby's teething discomfort?
Allowing your baby to chew on a chilled washcloth or solid silicone (BPA-free) teether can provide great relief to a teething baby. Massaging (mechanically stimulating) the gum where the tooth is erupting can also be soothing while assisting with the eruption process. As needed, over-the-counter Tylenol can ease teething discomfort.
What should you avoid for teething?
Teething gels: Avoid using topical anesthetics such as teething gels that have benzocaine. In rare cases, benzocaine may cause methemoglobinemia, a serious condition where blood's ability to carry oxygen is significantly decreased. Since 2018, the FDA has recommended against the use of any oral product containing benzocaine in infants and children under 2 years of age.
Teething jewelry: While it has become quite popular in recent years, teething jewelry poses the potential risk of choking, strangulation, and injury to the mouth. There is also a lack of evidence that it actually provides teething relief.
Frozen items: Do not use anything that is frozen to relieve teething discomfort as it can lead to ice burn.
Homeopathic teething tablets: FDA has issued a warning against homeopathic teething tablets with belladonna or coffea cruda. Not only are teething tablets not being evaluated for their effectiveness and safety, they also may contain ingredients in amounts that exceed the products' labels.
What should you do when your baby starts teething?
When that first tooth erupts, it's time to schedule your baby's first dental appointment! We call it establishing a dental home, which is not only essential for their oral health but overall health. At this first visit, a pediatric dentist will examine your baby's mouth to ensure everything is developing normally. In addition, they will provide anticipatory guidance on growth and development, oral hygiene, nutrition education, non-nutritive habits, injury prevention, and fluoride use.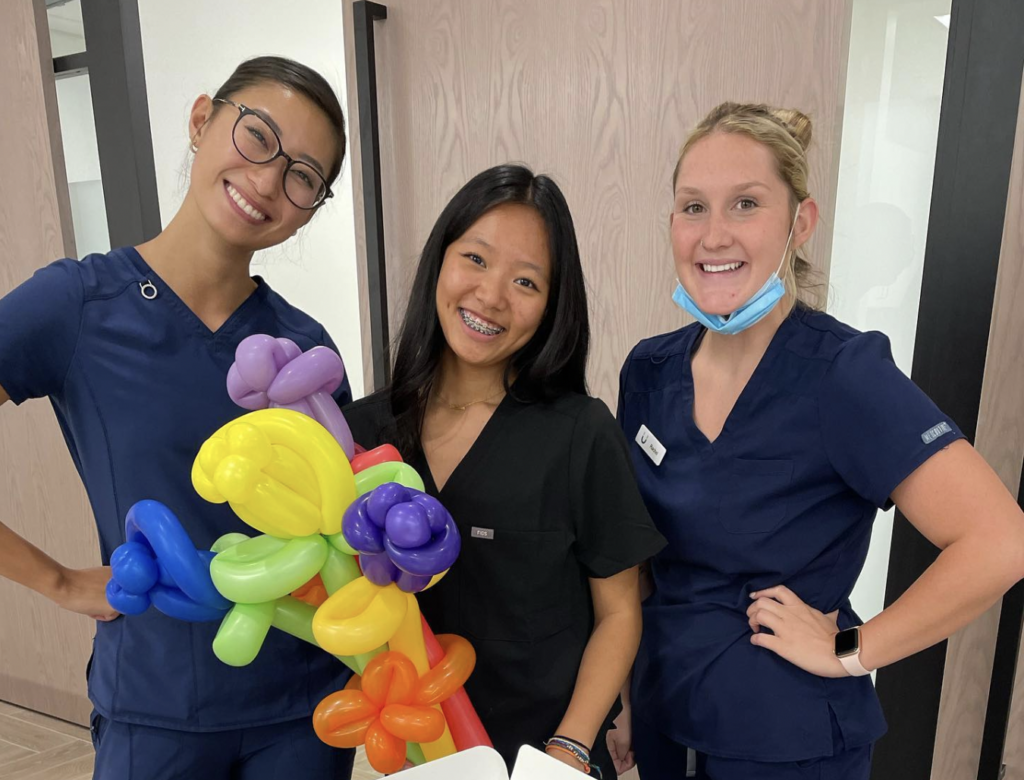 ---
Why Choose Union Pediatric Dentistry of Denver, Colorado?
Along with Dr. Mike, our board-certified pediatric dentist, our talented and experienced team is committed to protecting your baby's healthy smile and preparing you for their exciting milestones. We believe our patients are unique and deserve specialized dental care that reflects their individual needs. We are here for you and your family each step of the way as your baby grows and thrives!